Sidney Bryant
The Ohio Region honored the memory of Sidney Bryant a long time NSTRA member, with a fund raiser trial held April 10 & 11 at the Buckeye Pheasant Hunting Preserve. 127 dogs competed in the Double/Double trial. Sid's son, grandson and brother were on hand and were presented with a plaque and gifts in remembrance of Sidney by Ohio Region President Suvoyee Rudd.
Presentation to Sidney's Grandson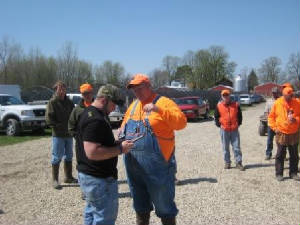 Saturday "A" Winners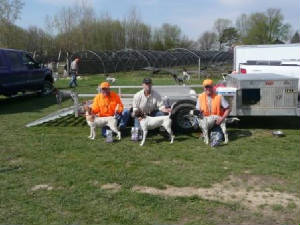 1st Gidget - Gayle Clark 2nd Jake - Dave Abney 3rd Scooter - Bill Ferguson
Sunday "A"
1st Fibber Corey Alsept 2nd Dolly Rod Howard 3rd Ten Tom Daniels
Mavric
Christopher Walden's paintings have been exhibited in prominent art shows and galleries throughout the U.S., New Zealand, U.K., Japan, Switzerland, and Germany. In addition to being a talented artist, Chris is also a supporter of many conservation organizations such as Ducks Unlimited, National Wild Turkey Federation, Quail Unlimited, Ruffed Grouse Society, Pheasants Forever, and The Rocky Mountain Elk Foundation.
May Ellen Bliss takes a break from watching her dogs run at the Izaak Walton trial for a little fishing - Great catch!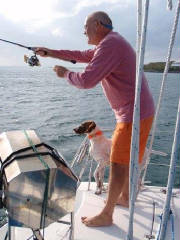 Don't let this one get away George!
Ohio Region member George Zeck and his dogs recently took some time away from the Ohio cold and snow to relax in a warmer climate. George and his Shorhair Sally reeling in a big one in the Bahamas. George prefers Shorthairs rather than pointers for fishing.