Moonie

Kansas

Bailey

Bob

Doc

PJ

Blue

Jake

Sam

Chip

Jim

Dan

Ottis

Joachimi

Akey

Bacik

Mahoney

Cunningham

Akey

Mahoney

Abney

M. Bliss

M. Rudd

T. Rudd

Gehrlich

Thomas
Wednesday on the "C' field Sam, owned by Mary Ellen Bliss (Dion Bliss handler) placed 1st with 5,5. On the "A" field, Bailey and John Bacik took 2nd place with 4,4 and a back.
Thursday on the "C" field, Blue and Jim Mahoney took 3rd with 4,4 and a back.
A total of nine dogs advanced to Friday's braces - Bailey, Bob, Blue, Chip, Dan, Doc, Jake, Kansas, and Sam.
Angie's Dogwood Doc took 2nd Runner Up. Doc is owned by Randy Cunningham and was handled by Harold Smith.
Congratulations Doc, Randy and all those participating for representing the Ohio Region!
Jake's Woody Mountain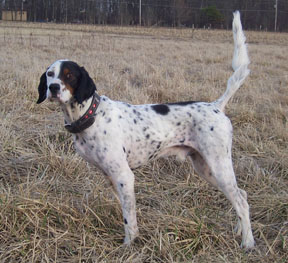 2009 Trial of Champions
Congratulations to Don Stir and Woody finishing Second Runner-up in a field of 104 dogs in the 2009 Trial of Champions! Woody was also the 2008 Ohio Region Champion. Thanks to Don & Woody for a great job in representing the Ohio Region.
Read the entire article.
Randy Woolum and Mavric were recognized for winning the 2008 Trial of Champions with the presentation of a portrait of Woolum Mavric Attitude
2008 Dog Of The Year
12 dogs from the Ohio Region ran in the first round of the 2008 Dog of the Year. Five made the first cut and advanced to the second round. These were: Sparky - J. Morrow/D. Bliss ; Jim - S. Rudd ; Dan - R. Gerlich/T. Rudd ; Jack - J. Mahoney ; Kansas - M.Akey.
Jim and S. Rudd were able to advance to the final 24 and then on to the final 6, where they ended in 4th (3rd runner up).
Congratulations to S. Rudd and Jim and to all Ohio participants for representing the Ohio region so well.
2008 GRAND NATIONAL
Seven Ohio dogs attended the Grand National in Creston Iowa this summer. Two dogs placed in the first go around in A field. Taking first place was Jack and Jim Mahoney. Placing fourth was Kansas and Mike Akey.
Congratulations to both and thanks to all for representing Ohio.
2009 Quail Forever
Ten Ohio dogs competed in this years Quail Forever trial held on the grounds of the 4 Star Plantation in Carlton, Ga.
Placing third in B field was Mike Akey and Rusty. Four dogs advanced to the second round. Jake/Abney, Skamper/Cunningham, Bob/Mahoney, Rusty/Akey.All four were bumped out in that round.
The Ohio Regon would like to thank Mr. and Mrs. Danny Brownlow, owners of the 4 Star Plantation for hosting the grounds and for their hospitality. Trust me, you won't go hungry on those grounds.