9X NSTRA Champion Windy Acres Jessica Aug 1, 1998 – March 23, 2012
Jesse has passed on to the great fields in the sky. She had a outstanding career in NSTRA with 173 open points, 31 1st place finishes, 30 2nd place finishes, 6 National trial placements. Her first placement came at 2 years of age and her last was at age 12, plus a hunters trial win at age 14.
Jesse was not only a great competitor but also Queen of the front seat and Queen of Derek's kennels. When she and Derek napped in the front of his truck it was hard to tell where Jesse left off and Derek started. She was a competitor to be remembered and will be missed by all that knew her.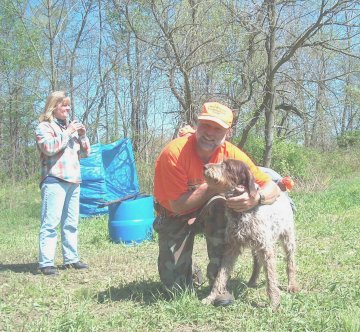 In the last two years of helping with the website, I have written too many sad memorials for Ohio Region members. I always tried to make each one special, knowing how important and unique every dog is to their owner.
Now, I am heartbroken to be writing in remembrance of my own special dog, Tommy. Tommy died suddenly April 3, 2011 after a wonderful weekend trialing at Pike County BDC where he had four great runs and took a second place in the A field with 5 finds.
Tommy had a short NSTRA career; he came to us as a three year old that had gotten off to a rough start. Tommy had stellar breeding - Rock Acre Black Hawk and Elhew Swami. But he had the same misfortune of too many other bird dogs, a series of owners or handlers too impatient to give him a chance. He came to us as a last resort; because no one had been able to actually get him to go.
Tommy spent the first year just being a house dog – afraid of everything. Slowly he got enough confidence to run more than a few feet in front of you. So we started trialing him – none of his early outings were memorable – he spent a lot of time out of bounds, in the woods, walking slowly by Dave's side or eating grass.
I know many of you would quietly ask, "Why are they still running that dog?" Or we would get the occasional, "I can get you a really good bird dog, cheap. I've got a new litter of pups - great bloodlines!"
Well, Tommy was a really good bird dog. We kept running him because he loved it and for the joy it gave us to just watch him go!
Tommy did not have a long list of first place wins, so I don't have trophies, plaques or jackets with his name on them.
What I have are the images of Tommy on point – few dogs ever looked better on point - and the memories of a wonderful, devoted and loving friend.
Jayne
Run-n-Gun Tommy Hawk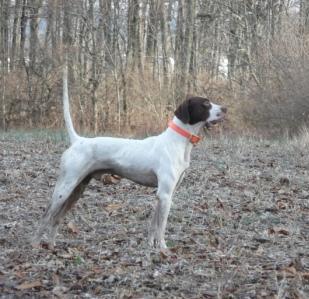 We are sorry to report that Rudd's Running Nebo died recently due to a tragic accident while in Lake Wales Florida to compete in the 2011 Quail Invitational Championship. Ben was owned by Teresa Rudd and handled by Suvoyee Rudd. Ben was a 1X champion. In his short career he had 12 placements including winning the 2010 Ohio Region Elimination while only 18 months old. Our sympathies to the Rudd family.

On January 3, 2011 the Ohio region lost one of our toughest competitors - Rod Howard's Rambling Blue Dakota passed away. Dakota was a 6X champion, his first placement in Jan. 2001 at Three Rivers. In Dakota's career he earned 119 points with a total of 53 placements, 24 were first place finishes. In 2003 he was Ohio Region Champion. Dakota's last placement was in 2007 where he placed in the Ohio Region Qualifier. Dakota's presence in the field will be greatly missed by all.
Howards Rambling Blue Dakota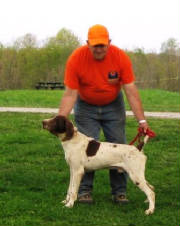 We are sorry to report that Derek Plyler's German Shorthair, Zeus died on January 3, 2011 at the age of 11. Zeus King of the Gods was a 9X NSTRA Champion. His first placement was in October 2000, a first place at Three Rivers. Zeus went on to have a great and long NSTRA career. He earned a total of 179 points including 34 first place wins. His last placement was in April, 2009. Our sympathies to Derek on the loss of Zeus.
Zeus King of the Gods 9X NSTRA Champion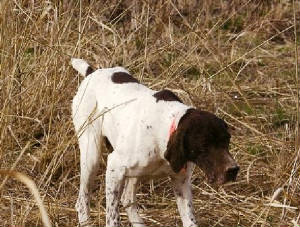 Don Stir's English Setter Joe recently passed away at age 14. Spuds Tekoa Joe was a 6X NSTRA Champion and Don's first trial dog. Joe had a great and long NSTRA career. He placed in his first NSTRA trial in January of 1997 and went on to have a total of 19 first place wins and 129 points. Joe was in the Top Ten Ohio Region Dogs 6 times. Joe's last win, a first place at Three Rivers came in April of 2004. Our sympathies to Don on the loss of Joe.

Woolum Mavric Attitude passed away recently due to cancer. Mavric, out of Honky Tonk Attitude and Woolum Have Mercy, was a 4x NSTRA Champion. He had placed in a total of 33 trials with 14 first placements. In 2008 Mavric won the Trial of Champions in Amo, Indiana. Our sympathies to Randy and Diane.
Woolum Mavric Attitude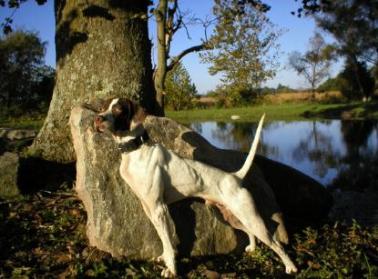 We are sad to write that Don Stir's English Setter Kash, recently passed away. Trey's Mountain Kash was a 2X NSTRA Champion. We will miss seeing Don and Kash together on the field.
Trey's Mountain Kash with a 1st place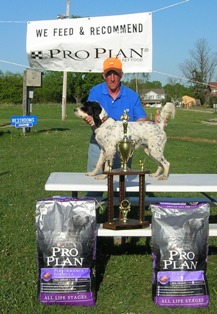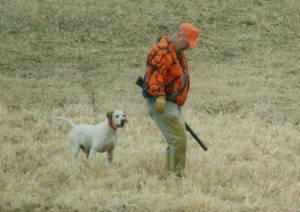 Dancin Elhew Man
1x Champion
January 12, 1998 - April 12, 2008
Willy passed away doing what he loved doing, finding birds.